Air Conditioning Repair Huntsville AL | Bill Penney Mitsubishi

Regardless if you're heading home from a tough workout near Huntsville, Athens, and Elkmont or the outside temperature is heating up, you've got to have a way to cool down behind the wheel of your car.
That's why the skilled team of automotive technicians at Bill Penney Mitsubishi has all the parts, tools, and experience required for your air conditioning repair.
By choosing our state-of-the-art repair shop, you can trust that your vehicle's cooling system is being addressed by a squad of professionals who know how to efficiently and precisely fix up any part of your automobile. Ready to learn more about how we do air conditioning repair? Let's get started!
Why is Air Conditioning Repair Important?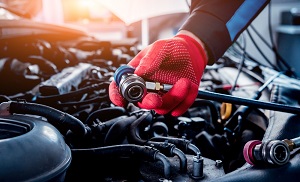 Before we tell you more about the benefits of getting your vehicle's air conditioner repaired at our service facility, let's first discuss some of the reasons why air conditioning is so essential.
Although you may think that the AC system's only purpose is to keep you cool, it actually plays an important role in the health of your car. Due to the fact that your vehicle's engine produces lots of heat while you're driving, it needs a way to stay cool.
Thanks to the AC and cooling systems inside your car, you'll be able to keep both the cabin and your engine at a comfortable temperature. As a result, your motor will have the stamina and longevity to remain in top-performing condition for years to come.
On top of that, the air conditioning system inside your car wards away fog and frost throughout the year. That way, you can quickly clear off your windshield so that you have the optimal visibility required for a safe journey.
Signs That You Need Air Conditioning Repair
Now that you know all about the importance of your vehicle's AC system, it's time to find out what you'll experience when it needs to visit our repair shop. To help you out, we've compiled a list of the most common air conditioning repair symptoms:
Stuffy Cabin: If your AC vents are no longer blowing cool, crisp air, it's possible that the compressor isn't working properly. Once you noticed this, consider making an appointment at your local service center.
Loud AC System: Does your car produce more noise than usual after you engage the AC controls? If so, it's worth having this sound checked out by a trusted auto mechanic. By doing so, they can rule out the possibility of a compressor issue.
Water Stains: When you run your AC system, you should see small puddles of water underneath your car. However, if you begin seeingwater marks or stains inside your car, head on over to your service center for a checkup. Sometimes, this can be caused by damage or a clog inside the air conditioner.
Of course, those are just a few of the signs that you need to schedule an AC repair. If you notice anything out of the ordinary while cooling down with your air conditioning system, contact our team!
The Penney Perks of AC Repair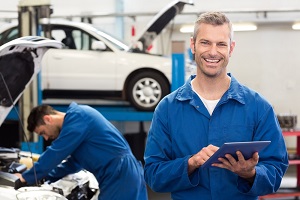 To keep your automobile's cooling system functioning at its best for as long as possible, regular AC maintenance and repairs are critical. Luckily, the auto repair professionals at our dealership will gladly diagnose and address anything you throw our way.
Plus, we offer Late Night Service hours Monday through Thursday until11:00pm, which means that you don't have to wait until the weekend to get your air conditioning repaired.
After you're all set and ready to hit the road, you'll receive a $5 Lyft coupon courtesy of our service center. It's just one of the many ways that our team makes your life easier.
Schedule Your Air Conditioning Repair Today!
At Bill Penney Mitsubishi, we believe that the first step toward happiness on the roads of Huntsville, Athens, and Elkmont is to visit a service facility where you'll be supported by knowledgeable technicians.
Well, all you have to do is stop by our repair center, where our skilled automotive specialists are ready to get your AC system back in working order. Get started by giving us a call, scheduling your service appointment online, or visiting us in person today!
Service Hours
(256)678-7995
| | |
| --- | --- |
| Monday | 7:00 am - 11:00 pm |
| Tuesday | 7:00 am - 11:00 pm |
| Wednesday | 7:00 am - 11:00 pm |
| Thursday | 7:00 am - 11:00 pm |
| Friday | 7:00 am - 6:00 pm |
| Saturday | Closed |
| Sunday | Closed |